Introduction
The Nikon Z5 is a low-cost full-frame mirrorless camera that looks and feels almost identical to its more expensive Z-mount brothers, the Z6 and Z7. It's based on a stabilized non-BSI 24MP CMOS sensor, which is more likely to be related to the chip generation found in Nikon's D750 DSLR than the newer BSI  sensor in the Z6.Nikon reviews of 'nikon z5 reviews-the most affordable full-framer for stills.
The Z5 is slightly smaller and more focused on stills than the Z6, but it shares the same 273-point hybrid AF system, Expeed 6 engine, and 3.69M-dot OLED viewfinder. However, amenities such as a top plate display are missing. Similarly, the Z5's maximum burst rate and video capabilities are significantly lower than those of the Z6: 4.5 fps vs. 12 fps and highly cropped 4K vs. un-cropped, oversampled 4K, respectively. However, in terms of image quality and handling, the two cameras are very similar.
Key Specifications:
24MP full-frame CMOS sensor (not BSI)
Hybrid AF system with 273 phase-detect points covering 90% of the frame
4.5 fps continuous shooting with AF
5-axis in-body image stabilization
3.69M-dot OLED viewfinder
Dual UHS-II SD cards
4K/30p video capture (with 1.7x crop)
1080/60p video capture (no crop)
Headphone and microphone ports
Dust and moisture sealed
What is new, and how does it compare?
The Z5 crams a lot of useful components into a comfortable, well-built package. As a result, the entry-level full-framer is shockingly advanced. However, unlike the Z6, which combines stills and video capabilities, the Z5 is better suited to a stills-only audience.
Key takeaways:
5-axis stabilized 24MP, full-frame sensor not backside illuminated, likely similar performance to D750-generation chip
Modest 4.5 fps max burst rate, but with excellent buffer depth
273-point hybrid autofocus system detection are and eye detect (same as Z6)
AF tracking mode that operates (sort of) like Nikon DSLRs' 3D Tracking
Same 3.69M-dot Quad VGA EVF as Z6
Heavily cropped (1.7x) 4K video, uncropped 1080/60p
Electronic first curtain shutter
Super-fast 1/8000 sec top mechanical shutter speed for fast aperture shooting in bright light
Stabilized 24MP full-frame sensor and 273-point hybrid AF system
The Nikon Z5 has a full-frame 24MP sensor. Unlike its bigger sibling, the Z6, this chip isn't backlit, thus it won't have the same low-light performance. In terms of Raw image quality, we expect it to be on par with the unexpectedly still-relevant Nikon D750.
The camera employs the same Expeed 6 processor as the Z6, although burst shooting is limited to a relatively modest 4.5 frames per second (compared to 12 fps). Nonetheless, a buffer limit of 100 frames with no lag (even while shooting Raw+JPEG) is extremely outstanding.
The Z6's 273-point hybrid AF system is also borrowed and provides good coverage. Nikon recently improved the autofocus of the Z6 through firmware 3.0, both in terms of reliability and usability. These enhancements benefit the Z5, including an easier-to-use AF-tracking mode and increased reliability when using face/eye detection.
Previously unstabilized glass – installed via Nikon's FTZ adapter – suddenly seems much steadier stabilization body stabilisation for those moving from F-mount. Furthermore, Nikon claims that the Z5's IS technology may minimise vibration by up to five stops (CIPA standard).
Shutter speed of 1/8000 sec and silent shooting
It's always good to see a truly pro-level feature in a budget-friendly body. In this regard, the Z5's top shutter speed of 1/8000 sec is a pleasure, especially for those who like to shoot fast aperture lenses in bright light (without the need for a ND filter). In addition, the camera has an electronic first curtain shutter mode to help reduce shutter shock, as well as a 'Auto' option that converts to a purely mechanical shutter at faster speeds. There's also a fully silent E-shutter option, however it's best avoided while photographing fast-moving subjects to avoid rolling shutter.
The same EVF as the Z6, but with a lower-resolution touchscreen and twin card slots.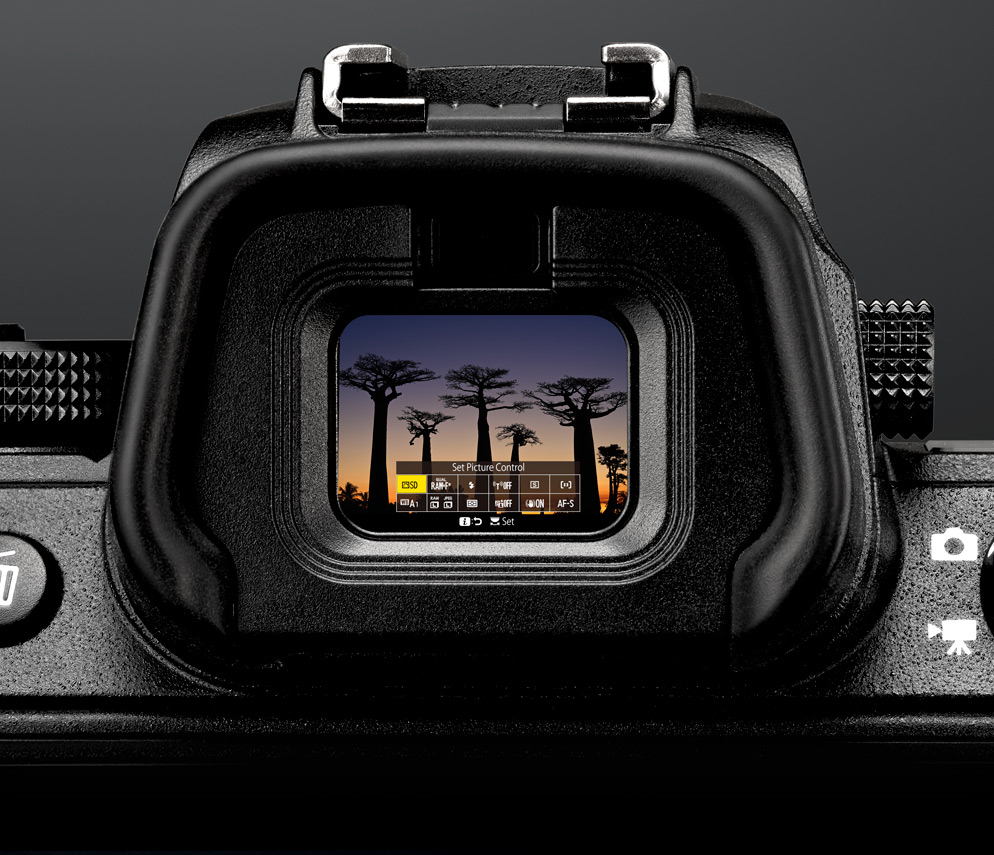 The Z5 has the same 3.69M-dot EVF as the Z6, but a lower-resolution 1.04M-dot back touchscreen (compared to the 2.1M-dot display on the Z6). In either case, both are competitive in this camera class.
The inclusion of twin UHS II card slots is one design choice that is sure to impress the masses. When the Z6 and Z7 were first released, there was some controversy over the cameras' single XQD slot. Nikon appears to have learned from the previous uproar.
4K video feature set that has been heavily cropped
The video is by far the most significant difference between the Z5 and Z6. For run-and-gun photographers, the latter has a fairly attractive feature set that includes lovely-looking oversampled, uncropped 4K, uncropped 1080/120, and Raw or 10-bit 4:2:2 N-Log output over HDMI. The Z5 provides, well, nothing.
There is support for 4K video capture, however it comes with a 1.7x crop, and video capture tools are practically limited to focus peaking and zebra stripes. There is an uncropped 1080/60p option, as well as headphone and microphone connections, as well as the same great image stabilisation as the Z6. Video autofocus should be rather strong as well. However, this is not the camera for those looking for the best video capability for the money.
Nikon Z5 body, controls, and handling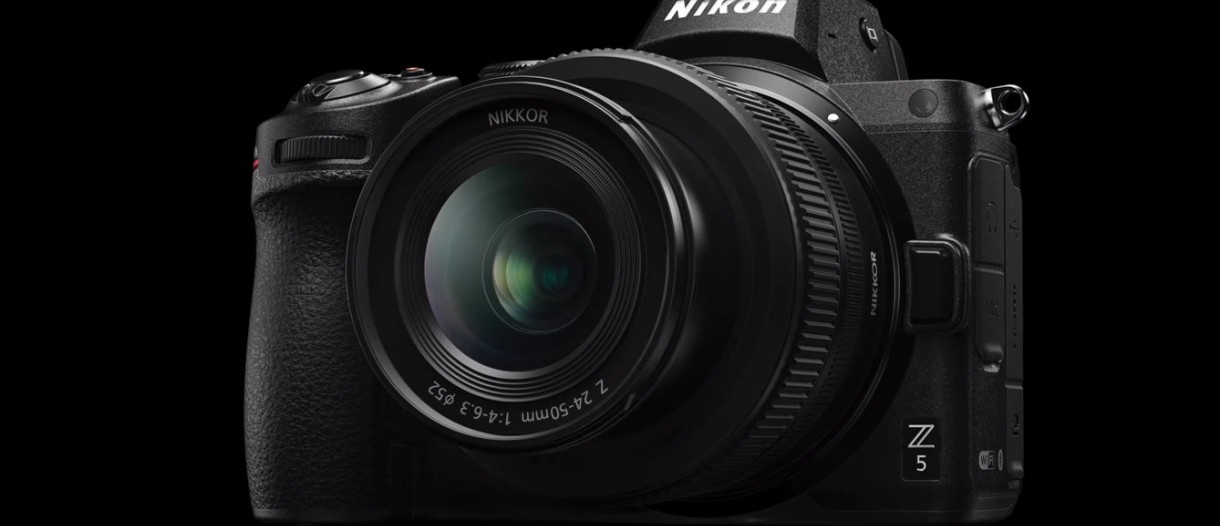 There isn't much difference between the bodies of the Nikon Z5 and Z6, which is great because we love the Z6's sensible size, responsiveness, and build quality. The Z5 provides the same high level of customisation.
The Nikon Z5 has the same size, weight, and dimensions as the Z6, and it has the same gorgeous 3.69M-dot EVF.
The primary architectural differences between the two cameras are the lack of a top plate info panel, a lower-resolution rear LCD, and twin UHS II SD card ports (vs one XQD).
The Z5 has the same level of customisation as the Z6.
Nikon DSLR users will be familiar with the menus.
Body and handling
The Z5 feels incredibly well built and sits pleasantly in the hand. While the Z5 is the same size and weight as the Z6, several of its body components, such as the back and base, are made of plastic rather than magnesium alloy. Even with both cameras in front of you, you'd be hard pushed to tell the difference. Nikon claims that the Z5 is dust and moisture-sealed to the same high quality as the Z6 and Z7.
The Z5 lacks a top plate info panel, unlike the Z6 (right). Nikon instead moved the mode dial from the left shoulder to the right, making it more accessible with the shooting hand. Please keep in mind that there is no locking mechanism on this mode dial, and it is readily bumped.
Another significant distinction between these two types of cameras is their rear screens. The Z5 has a 1.04M-dot display that is quite ordinary for its class, whereas the Z6 has a higher-resolution 2.1M-dot display. Both are slanted. Aside from resolution, the Z5's touchscreen is pleasant and responsive, and it can be used while shooting (for AF placement or to fire the shutter), navigating menus, and browsing images in playback.
While Nikon chose a lower-resolution back LCD for the Z5, they compensated by employing the same, very good 3.69M-dot (1280 x 960 pixel) EVF as the Z6. We thought the Z6 was one of the best EVFs on the market when it first came out (late 2018). It faces stiff competition after two years, but it remains extremely good, and given the Z5's entry-level status, it is also pretty generous.
When you open the card door, you'll see another distinction between the Z5 and Z6. Rather than a single XQD slot (like on the Z6), we're thrilled to find dual UHS-II SD card slots on an entry-level camera, and we believe most people considering the Z5 will be as well. It obviously distinguishes it from its brothers as well as its entry-level full-frame competition (only the a7 III has two slots and only one of those is UHS-II).
Aside from those differences, the Z5 is a carbon copy of the Z6 in terms of camera handling, from button placement to the feel of the dials and grip. For a more in-depth look at the handling notes,
Battery and connectivity
The Z5 comes equipped with the brand's most recent 'c' type EN-EL15 battery. It still works with older versions of the EN-EL15 battery, although only the 'b' and 'c' varieties support USB-C charging. Users should expect around 470 when using the rear monitor and 390 when using the EVF, according to CIPA regulations. However, as is always the case with CIPA ratings, expect a lot more shots than that. On one battery, we believe you can easily get through a full day of heavy shooting or a weekend of relaxed shooting.
The Z6 has 3.5mm headphone and microphone connections, USB-C and HDMI-mini connectivity, and a Nikon remote cable release port for physical communication. The camera also has Wi-Fi and Bluetooth capabilities, and it is compatible with Nikon's SnapBridge app (which offers basic remote shooting, image viewing and transferring).
Menus and customization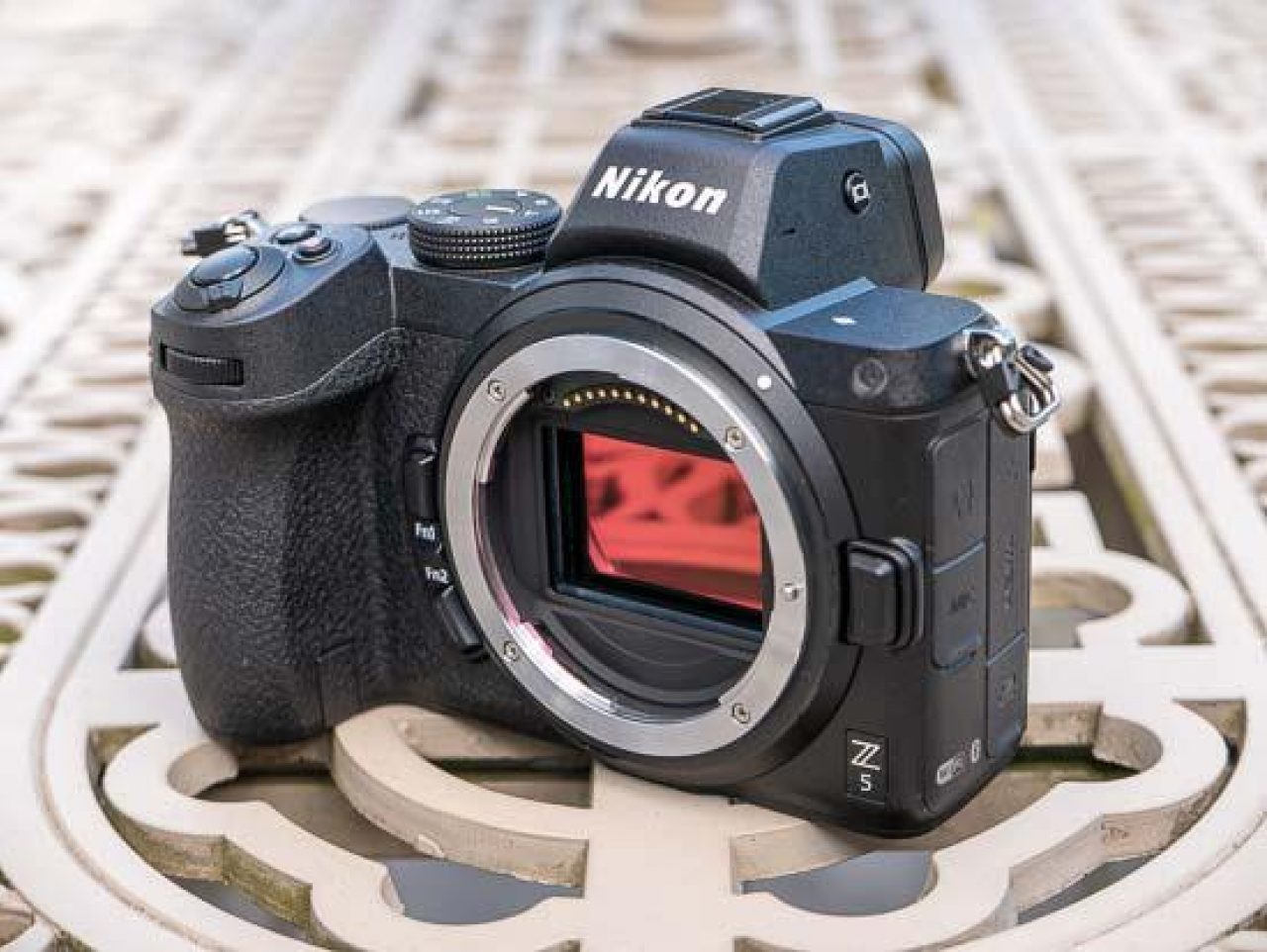 In terms of menus and customisation, the Z5 is identical to its elder brothers. Anyone who has used a modern Nikon DSLR should recognise the menus.
Click here for a detailed operation/controls breakdown of the Z5/Z6. A number of buttons, including the two function buttons on the front, can be changed from the menus. Users can also control the 12 menu options available in the quick-access iMenu. The iMenu and configurable buttons can also be configured separately for stills and video shooting.
The ability to set one of the custom buttons to enable subject tracking was enabled with firmware 3.0 for the Nikon Z6 and Z7, and we highly recommend assigning it to either Fn1 or Fn2 to take the greatest control over the Z5. This allows you to easily switch between the 'Auto area' AF mode (in which the camera selects its point of focus) and a subject tracking option that is similar to Nikon's DSLR-based 3D-Tracking and allows you to designate a topic.
Auto ISO
Nikon's latest Auto ISO implementation is included in the Z5. It's also quite good. Users have the option of setting an upper ISO level as well as a minimum shutter speed. That minimum shutter speed can range from 30 seconds to 1/4000 seconds, or it can be set to 'Auto,' which selects a shutter speed one stop faster than your focal length by default.
But that's not all: users can direct the 'Auto' mode to choose a shutter speed that is 2x or 3x faster or slower than 1/focal length. In A/S/P mode, you can also employ exposure correction with Auto ISO.
First impressions on the Nikon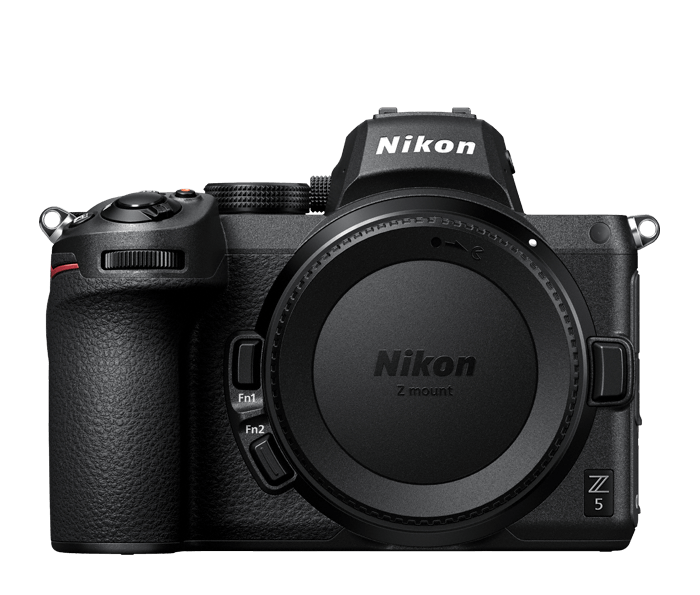 I've only had the Nikon Z5 for a little over a week, but I'm already impressed. This entry-level full-framer, priced at $1400 body-only, feels anything but entry-level.
As a long-time Nikon D750 owner, the Z5 feels like the camera that will finally convince me to switch to Z-mount, especially if and when the price drops a little; perhaps enough to purchase both the camera and an FTZ adaptor for $1400, or even $1200. Here's why:
The Z5 handles similarly to the Z6, which means nothing about it feels remotely entry-level.
The Z5 handles similarly to the Z6, which means nothing about it feels remotely entry-level. Sure, the rear screen is lower-resolution than the Z6, and you lose the top info panel, but both seem like reasonable trade-offs given the price. On the other side, it has two UHS-II SD card slots. As a D750 owner, that appeals to me more than the Z6's single XQD slot, which would necessitate the purchase of costly new cards and a reader.
https://cameramanlife.com/#:~:text=Read%20more-,nikon%20z6ii%20review%202022,-November%2017%2C%202022
In terms of image quality, we believe this sensor is similar to the D750's in terms of Raw capabilities. There's nothing to complain about. A BSI sensor would have been wonderful, but this is another reasonable compromise to keep the price down. We haven't shot the studio scenario yet, but it should show how different the 24MP full-frame chip in the Z5 is from the Z6. The latter will most likely have a modest advantage in low-light shadows.
The Z6 is the camera to get if you want both stills and video, while the Z5 is the camera to get if you only want stills.
Finally, I like that the Z5 isn't attempting to be a multi-purpose camera; its core role is plainly stills shooting. Video feels like an afterthought, which is great with me. The difference in video capability and features between the Z5 and Z6 makes a lot of sense from a camera marketing standpoint. If you care about both, the Z6 is the camera for you; if you only care about stills, the Z5 is a better choice.
But there are a handful of reservations I have about the Z5, neither of which is a deal breaker: The first is its maximum burst rate of 4.5 frames per second. Yes, it's about average for its class, but it's also two frames per second slower than my D750. And, while I'm amazed that you can fire 100 shots before the camera buffer kicks in, the fact that the D750 can shoot at 6.5 fps with a comparable sensor (and, by the way, a mirror) implies it could be an artificial constraint to keep the Z6 at 12 fps.
Subject tracking on the Z5 is still less reliable than Nikon's proprietary DSLR-based 3D-Tracking.
My other complaint is about autofocus dependability. When shooting with the Z5, I alternated between the 'Auto area' mode, in which the camera chose the subject, and the subject tracking mode. By adding subject tracking to one of the function buttons, you can easily switch between the two. This shooting strategy works well most of the time…
While the 'Auto area' mode does a decent job of locking focus on the nearest object or activating face/eye detect when humans are present, the subject tracking mode seems a little less sticky to me than that of other brands, particularly Canon and Sony. Furthermore, it still feels a little less stable than Nikon's own 3D AF Tracking, which is available in its DSLRs (but more testing is needed). However, we know Nikon has been working hard to improve Z-mount AF behaviour, and recent firmware updates for the Z6 and Z7 are quite hopeful.
Finally, the Z5 feels like a lot of camera for the money and is well-positioned to end up in the hands of a wide range of consumers.
Finally, the Z5 feels like a lot of camera for the money, and it's well-positioned to end up in the hands of a lot of users, including myself. It may not provide a Raw image quality advantage to D750 owners like me, but it will finally provide us with the latest camera features and enhancements we crave: in-body image stabilisation, an AF joystick, wide AF point coverage, face and eye recognition, and USB charging. And it's all wrapped up in a tidy packaging for a reasonable price.
Image quality on the Nikon Z5
Whether shooting Raw or JPEG, the Nikon Z5 produces superb image quality. Raw files allow excellent detail capture and noise reduction. Cameras with more recent (dual-gain BSI) sensors, like as the Z6 and a7 III, display slightly less noise in shadow regions at very high ISOs.
Key takeaways: Outstanding raw image quality with exceptional detail capture, noise performance, and dynamic range.
More contemporary sensors marginally outperform in terms of raw noise performance at high ISOs.
Beautiful JPEG colour with good sharpness
The default JPEG noise reduction can be a little too aggressive.
On-sensor phase detect pixels are well-corrected, with no visible banding in shadow areas (unlike the Z6/Z7).
The default 'Auto' shutter mode uses EFCS at lower shutter speeds (to avoid shutter shock) and mechanical at higher speeds (the top mechanical speed is 1/8000 sec).
Nikon Z5 studio scene
The raw image quality from the Z5's 24MP sensor is comparable to its contemporaries, with outstanding detail at low ISO. Sharpening discrepancies between it and the D750 (which likely utilises the same generation sensor) are most likely due to the lens used: the Z 50mm F1.8 S in particular is insanely sharp. Furthermore, the Z5 captures detail that rivals the best in the segment throughout the scene.
At higher ISOs, the noise performance of the Z5 and D750 falls short of those of its BSI counterparts, the Z6 and a7 III (which looks the best). That discrepancy is increased at the highest ISOs. However, at more modestly high ISOs, like as 3200, the noise difference between the Z5 and Z6/a7 III is insignificant.
The Z5 provides beautiful JPEG colour, identical to the Z6. Color differences between this series of Nikon mirrorless cameras and the D750-generation can be seen: reds and yellows look a little brighter. However, Nikon colour has long been a favourite, ranking alongside Canon and Fujifilm (though we still like Canon's reds). Colors on the Z5 are brighter and more vibrant when compared to the older Sony a7 II. Switching to auto White Balance in low light, the Z5 does a good job of keeping tones warm and natural-looking.
At higher ISOs, the default JPEG noise reduction is harsh, obscuring significantly more detail than the Sony a7 III and even the Z6. NR, on the other hand, appears to be more sophisticated than the D750, EOS RP, or Sony a7 II in deciding what to blur and what not to blur. And sharpening at higher ISOs appears to be well-judged, with no edge haloing, which is a tell-tale symptom of sloppy large radius sharpening.
Dynamic range of the Nikon Z5
The dynamic range of the Z5 is excellent. Looking at our ISO Invariance test, you can see that using a low ISO in low light situations and brightening it makes little difference in the output as compared to using a high ISO in the first place. This demonstrates that the camera adds very little electronic noise to the final result and allows you to use this approach to shooting in low light when there are bright details, such as neon lights, that would be blown out if you used a high ISO setting. This is a better result than the logical peers of the Z5.
Similarly, in good light, you can comfortably lift the shadows by reducing the exposure at base ISO to capture extra highlight information (as we do in our Exposure Latitude test). Reducing the exposure increases the noisiness of the shadows, but as you can see in our comparison, the camera isn't adding any major noise to the shadows. In addition, unlike the Z6, the phase detection pixels appear to be perfectly corrected: there is no striping even in the deepest shadows.
Nikon Z5 autofocus and video
The focusing performance of the Z5 is excellent, whether utilising classic subject tracking, face/eye detect, or a single AF point/area. In terms of video, the Z5's 4K capture is substantially cropped (1080p is not), but thanks to strong image stabilisation and good video AF, users may still use the Z5 for casual handheld shooting.
Outstanding AF performance (similar to Z6). Face and eye detection function well, and classic subject tracking, in which the user controls what the camera follows, is also very dependable.
The Z 24-50mm F4-6.3 kit lens's AF performance is lens dependent, and it sometimes struggle to focus in low light.
AF points cover 90% of the frame, with a snappy AF joystick for placement.
4K video has a 1.7x crop, which reduces clarity and makes wide-angle recording difficult.
The Z5's uncropped 1080/60p video resolution, excellent handheld IS, and good video AF make it ideal for casual (Full HD) video filming.
Customize the Z5 for success with autofocus.
The Z5 should be better tuned out of the box to make the most of its focusing functions. Here's how we recommend getting things started:
Navigate to the 'Custom Setting Menu' and pick 'f2', 'Custom controls.'
Subject tracking' should be assigned to the 'Fn1' button.
Turn AF-C on.
And with that, you're ready to rock and roll. You should be in 'Auto area mode' by default, with face and eye detect turned on. In this mode, the Z5 will choose your subject and, in general, it will choose the closest and/or most central item if no face/eye is identified. This is an excellent setup for casual photography, particularly when photographing friends or family.
But what if you want to be in charge and select your own subject to focus on? Simply press the 'Fn1' button to bring up a subject tracking box, then half-push the shutter or hold AF-On to lock focus on whatever is beneath it. Before locking focus, you can also move the subject tracking box around the frame with the joystick. When you release the shutter or the AF-On button, the box will return to its previous position. And pressing 'Fn1' again returns the camera to the previous AF mode. Simple!
Alternatively, in 'Auto area mode,' you can tap the back of the screen to commence tracking, but to disengage it, you must press the 'ok' button rather than simply releasing the shutter/AF-on, which is less than ideal.
Nikon Z5 AF-C autofocus and subject tracking performance
At its maximum burst rate of 4.5 fps, the Z5 aced both of our AF tests. It had no issue keeping a single point of focus on our biker as they approached the camera. And when we factored in subject tracking, in which the camera must track our subject throughout the frame while also keeping focus as they approached, the in-focus hit rate remained great (see below).
We ran the subject tracking test three times, and the camera never failed to detect or completely lose our target, even if the occasional frame is front/back-focused. While these results are impressive, keep in mind that our subject stands out from the background in terms of distance and tone (that shirt!). This distinction is not always there in real-world shooting. Furthermore, the Z5's tracking may occasionally trip up in settings where the foreground and background elements look identical.
It's also worth noting that when using the completely silent e-shutter mode, subject tracking is completely unreliable, and rolling shutter is, well, quite noticeable for moving subjects.
Autofocus performance/behavior of the Nikon Z5 face and eye detect
Face and eye detection are also reliable (similar to the Z6), albeit the Z5 will occasionally front-focus on the eyes, ever so little. However, this is only visible at very small depths of field and to the most observant pixel-peepers.
Nikon Z5 face and eye detect autofocus performance/behavior
Face and eye detection are also reliable (like with the Z6), albeit the Z5 will occasionally front-focus on the eyes, albeit infrequently. However, this is only observable at extremely shallow depths of field and to the most astute pixel-peepers.
When there are many faces/eyes identified, an arrow will appear beside the currently detected face/eye, indicating that a tap of the joystick in that direction will transport you to a different subject. This UI operates admirably in practise. However, by the time you've managed to tap the joystick in the correct direction, the camera has lost track of the extra face/eye (for example, if the other person moves their head), and your input is ignored.
The Z5, like the Z6 and Z7, has a pet/animal recognition mode, but we've found that basic face and eye detect works just as well at locking focus on our furry friends (unfortunately, we didn't try it on birds or reptiles!).
Video by Nikon Z5
The Nikon Z5 is marketed as a stills-only camera rather than a stills/video hybrid. However, it does have something to offer video enthusiasts, such as uncropped 1080p, headphone and microphone connections, decent video AF, and good video stabilisation.
So, what is lacking in its video toolkit? Most notably, uncropped 4K video…
Video – tools
Users may simply switch between video and still shooting modes using a switch on the rear of the camera. Users may also configure the function buttons and quick menu for each mode separately, which is convenient. The exposure settings are likewise separated.
There are some rudimentary video assist options available, such as highlight-clipping alerts and focus peaking, but no external Raw video capture, as with the Z6. Having said that, the Z5 has outstanding in-body image stabilisation for handheld shooting, with the option of adding stability with e-stabilization (at the cost of an additional crop). However, even without e-stabilization, you should be able to obtain really useful handheld clips.
Standard 3.5mm mic and headphone connections are located on the camera's side, and different audio monitoring and adjusting features are available in the Z5's settings. Video autofocus performs admirably, especially when employing face and eye detection. In video mode, standard subject tracking works with good (but not exceptional) reliability. Users can also change the video AF speed and tracking sensitivity from the menus.
Conclusion of the Nikon Z5
What we like—–
Excellent resolution and dynamic range, as well as excellent high ISO performance
Beautiful JPEG colour
Excellent construction quality and dust/moisture resistance
Excellent ergonomics, fast controls, and an AF joystick with a touchscreen
5-axis picture stabilisation that works
EVF is big and high-resolution for its class.
Exceptional AF point coverage
Excellent subject tracking performance
Face and eye detection that is reliable
Bursts benefit from a deep 100-frame buffer.
Capture resolution of 1080/60p is adequate.
SD card slots with dual UHS-II speeds
Wi-Fi and Bluetooth connectivity are simple to utilise.
USB charging port, microphone, and headphone jack
FTZ adapter allows for backward compatibility with many F-mount lenses.
What we dont
Shadow noise is more noticeable at high ISO than in contemporaries with newer sensors.
For some, 4.5 fps burst may be too slow.
Heavily cropped 4K footage (1.7x) decreases clarity and makes wide angle shots difficult.
In 4K and while utilising the e-shutter in stills, there is a lot of rolling shutter.
JPEG noise reduction is a little too severe by default.
There is no built-in flash.
Overall assessment
The Z5 is an incredibly well-rounded stills camera (we'll get to video in a minute). Indeed, it's the most appealing stills-oriented full-framer for the money in 2020. This also makes it a natural vehicle for Nikon customers to transition from F- to Z-mount.
The Z5 produces good image quality. Nikon chose not to employ the latest dual gain, Backside Illuminated sensor in the Z5 to save money. This does place the camera slightly behind the (pricier) Z6 and Sony a7 III in terms of high ISO shadow noise. However, the advantage of the improved sensor is hardly revolutionary. The Z5 continues to capture superb detail and has extremely good high ISO performance.
This is undoubtedly one of our favourite full-frame mirrorless bodies for around $2k (and it's a steal at that price).
The Z5's design is nearly identical to that of the higher-end Z6 and Z7 series cameras. As a result, the Z5 handles more like a semi-pro body than an entry-level body. It feels robust and comfortable in the hand, is dust and moisture resistant, and has well-placed, responsive controls, including an AF joystick and touchscreen. Customization is also quite good. The 3.69 million-dot EVF is the best in class, and it's the only entry-level full-frame mirrorless camera with dual UHS-II slots. In a nutshell, this is one of our favourite full-frame mirrorless bodies under $2k (and it's a steal).
Autofocus performance is also quite good, whether subject tracking (where you choose and initiate what the camera follows), face and eye detect, or a single focus point/area is used. Slower lenses, such as the 24-50mm F4-6.3 kit, may struggle to focus in low light. The 273 phase-detect AF points spanning 90% of the frame feels generous, especially when compared to a DSLR. Furthermore, the Z5 can be readily configured to switch between subject tracking and any other AF mode on the fly using a function button.
A significant 1.7x cut and lots of rolling shutter are included with 4K.
The one area where the video quality is significantly worse than the Z6 is that 4K comes with a large 1.7x reduction and a lot of rolling shutter. Nevertheless, we consider this camera to be more of a stills-focused device than a stills/video hybrid. Nevertheless, the Full HD footage from the camera is respectable, and the Z5 does make it simple to record videos if you're fine with that or heavily cropped 4K: Video AF performs well with consistency, full-size microphone and headphone ports are provided, and in-body IS enables hand-held shooting.
In the end, the Z5 may not be a technologically ground-breaking camera, but it is an exceedingly powerful, well-built, and enjoyable to use camera that breaks the affordability barrier. Additionally, it is without a doubt the most cost-effective full-framer focused on stills available at launch. And it will be the right number of camera at the right price for many people, especially the mirrorless-curious. That is why it is given our most esteemed honour.
Nikon officle side – click here