The Nikon Z6 reviews is a versatile and powerful camera that is perfect for both professional and amateur photographers. With its excellent image quality, fast autofocus, and 4K video capability, the Z6 is one of the best cameras on the market. However, there are a few things to keep in mind before purchasing the Z6. In this blog post, we will take a look at some of the pros and cons of the Nikon Z6 so that you can make an informed decision about whether or not this camera is right for you.
When it comes to mirrorless cameras, there are a lot of great options on the market. But if you're looking for a high-quality camera that won't break the bank, the Nikon Z6 is a great choice. In this blog post, we'll take a look at the Nikon Z6 and see what it has to offer. We'll also compare it to other mirrorless cameras on the market to help you make a decision about which one is right for you.
Nikon Z6 overview and Specification
The Nikon Z6 is a high-end mirrorless camera with a full-frame sensor. It's the more affordable sibling to the Z7, and while it doesn't have the same resolution, it still offers excellent image quality thanks to its 24.5MP sensor. The autofocus system is also very good, with 273 phase-detection points covering 90% of the frame. The only downside is that the native lens selection is somewhat limited, i hope in future Nikon make z mount many lenses. but there are plenty of adapters available for using F-mount lenses. Overall, the Z6 is a great option for anyone looking for a high-quality full-frame mirrorless camera.
The Nikon Z6 is a high-performance mirrorless camera with a 24.5 MP CMOS sensor. It features an EXPEED 6 image-processing engine, full-frame 4K UHD video recording, and a expandable ISO range of 100-51200. The camera is also equipped with a 5-axis in-body stabilization system that compensates for camera shake. Lastly, the Z6 has a 3″ tilting LCD touchscreen display and a 0.80x optical viewfinder.
Packed with powerful features, the Nikon Z6 is capable of capturing stunning photos and videos. With its 24.5 MP sensor and EXPEED 6 image processing engine, the Z6 delivers excellent image quality. The camera's expandable ISO range of 100-51200 enables it to perform well in low light conditions. Additionally, the Z6's 5-axis in-body stabilization system compensates for camera shake, making it possible to capture sharp images even when shooting handheld. The camera also records full-frame 4K UHD video, ensuring that your videos look as good as your photos. Lastly, the Z6 has a 3″ tilting LCD touchscreen display and a 0.80x optical viewfinder, making it easy to compose your shots and review your images and videos.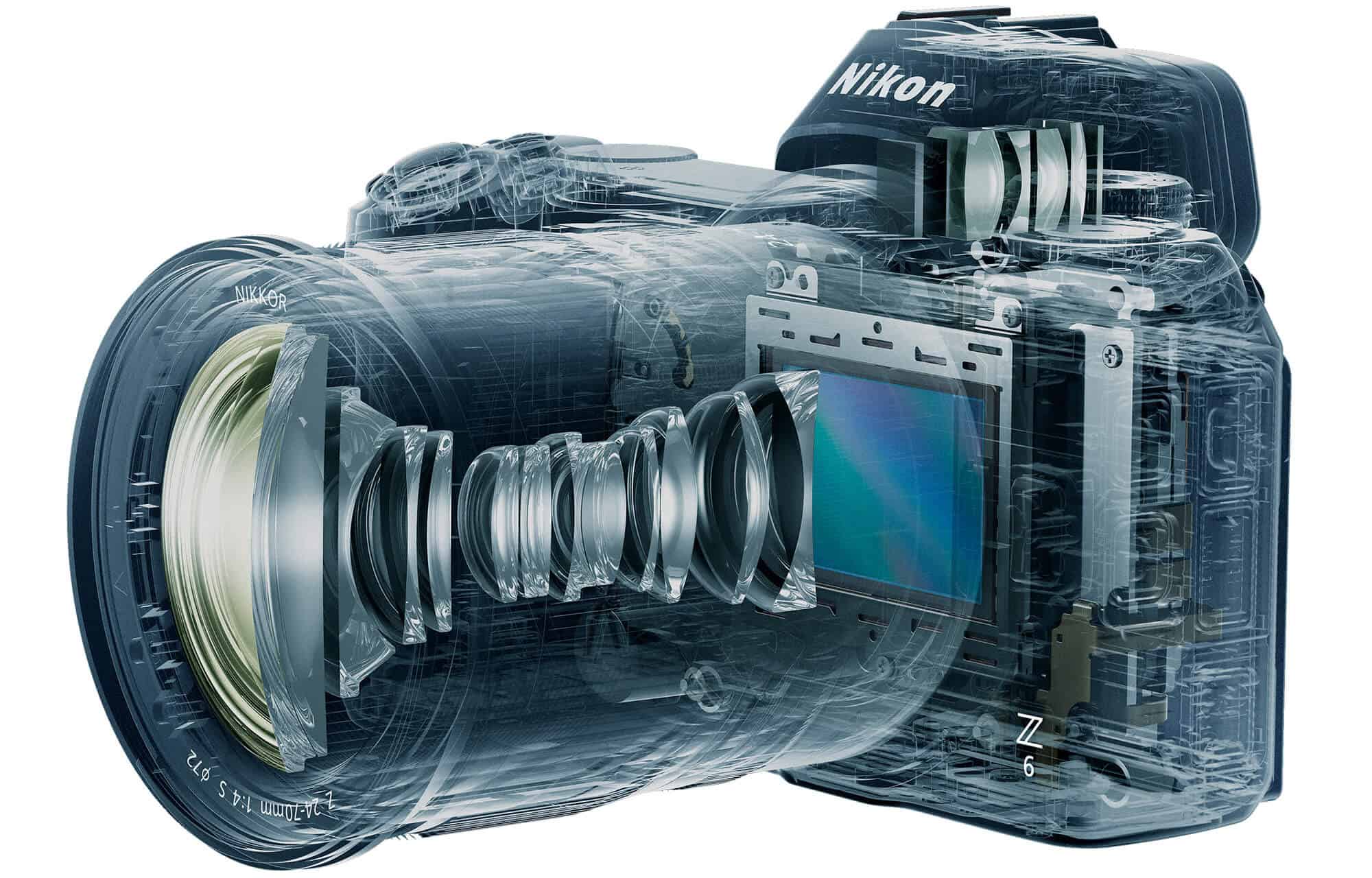 Features
Sensor: 24.5 MP FX BSI Sensor, 5.9µ pixel size
Sensor Size: 35.9 × 23.9mm
Resolution: 6048 × 4024
Native ISO Sensitivity: 100-51,200
Boost ISO Sensitivity: 50 (LO) 102,400-204,800 (HI)
In-Body Image Stabilization: 5-Axis
RAW Formats: 24.5 MP (RAW), 13.7 MP (mRAW), 6.1 MP (sRAW)
Processor: EXPEED 6
Dust Reduction: Yes
Weather Sealing/Protection: Yes
Body Build: Full Magnesium Alloy
Shutter: 1/8000 – 30 seconds
Shutter Durability: 200,000 cycles, self-diagnostic shutter
Storage: 1× XQD slot
Viewfinder: 3.69 Million Dot OLED Electronic Viewfinder
Viewfinder Coverage: 100%
Viewfinder Magnification: 0.8×
Speed: 12 FPS (only 12-bit RAW, no AE), 9 FPS (14-bit RAW, no AE), 5.5 FPS with AE
Built-in Flash: No
Autofocus System: Hybrid PDAF, 273 Focus Points
AF Sensitivity Range: -3.5 to +19 EV (-6 to +19 EV with low-light AF)
LCD Screen: Touch-enabled 3.2″ Tilting LCD with 2.1 Million Dots
Slow Motion HD Video: Yes
Movie Modes: 4K UHD @ 30 fps max
Movie Output: MOV, MP4
Movie Video Compression: H.264/MPEG-4 Advanced Video Coding
HDMI Output: 10-bit 4:2:2 N-Log
Silent Photography Mode: Yes
Intervalometer: Yes
Focus Stacking: Yes
In-Camera HDR Capability: Yes
GPS: No
WiFi: Built-in
Bluetooth: Built-in
Battery Type: EN-EN15b
Battery Life: 310 shots (CIPA)
USB Standard: Type-C 3.1
Weather Sealing: Yes
Weight: 585 g (Body Only)
134 × 100.5 × 67.5 mm (5.3 × 4.0 × 2.7″)
Price: $1,999.95
Design
There's a lot to like about the Nikon Z6. It's a well-built camera with great ergonomics, an excellent electronic viewfinder, and solid image quality.
But it's not without its flaws. The biggest issue is that the autofocus system is sometimes unreliable, particularly in low light or when tracking moving subjects. This can be frustrating for photographers who rely on their camera to always capture the perfect moment.
The good news is that Nikon is aware of the problem and is working on a firmware update that should address it. In the meantime, there are some steps you can take to improve the autofocus reliability of your Z6 (andZ7).
Performance
When it comes to performance, the Nikon Z6 is a powerhouse. It boasts a 24.5 megapixel sensor, which is capable of capturing stunning photos and videos. The autofocus system is also impressive, with 105 phase-detection points that cover a large area of the frame. This makes it easy to keep your subject in focus, even when they're moving around. The camera also has 6fps shooting, which is perfect for capturing fast-paced action.
Image Quality
When it comes to image quality, the Nikon Z6 is a great camera. It produces images that are sharp and detailed, with great colors and excellent dynamic range. The ISO performance is also very good, allowing you to shoot at high ISOs without losing too much detail.
If you're looking for the absolute best image quality, though, you'll want to go with the Nikon Z7. It's Nikon's flagship mirrorless camera, and it produces stunning images. The level of detail and resolution is incredible, and the colors and dynamic range are simply amazing. The ISO performance is also superb, making it a great choice for low-light photography.
Video Quality
It is important to note that the image quality of the Nikon Z series cameras is excellent. The sensor size is large, and the dynamic range is great. The ISO performance is also very good, meaning that you can shoot in low light conditions without having to worry about noise levels. However, there are some drawbacks to the video quality of the Nikon Z cameras. First, the autofocus system is not as fast or as accurate as some other mirrorless cameras on the market. This can make it difficult to keep moving subjects in focus, especially when shooting video. Second, the 4K video recording capabilities of the Nikon Z are limited to 30fps. This may not be an issue for many people, but if you want to shoot in 4K at 60fps or higher, you will need to look elsewhere.
Pros & Cons
Great overall image quality
Terrific high ISO performance (especially from raw files)
Very good dynamic range (but see Con about shadow banding)
Good AF-S speeds
Eye-detection AF for stills
Able to autofocus in extremely low light (especially in dedicated Low-Light AF mode)
Fast cycle times
Up to 12fps burst speeds with continuous AF and AE
Good buffer depths
Swift buffer clearing (thanks to fast XQD cards)
In-body image stabilization
Rugged build quality
Comfortable handling
Excellent weather resistance
Familiar control layout for existing Nikon users
Well-organized menus (mostly)
Excellent, full-width oversampled 4K/30p video
4:2:2 10-bit 4K via HDMI out
N-Log video HDMI output
4K focus peaking
Separate settings menus for stills and video
Large, High-res OLED EVF with 100% coverage
Smooth viewfinder performance, even when shooting continuously
EVF works well in low light
Top deck status display
Tilting high-res 3.2-inch touchscreen LCD
USB 3.1 Type-C port
Built-in SnapBridge Bluetooth/Wi-Fi communications
Type-C Mini HDMI port
Headphone and microphone jacks
New native lenses are sharp
24-70mm f/4 S kit lens is surprisingly compact
Adapted F-mount lenses work well
Single card slot
While touchscreen is responsive, touchscreen is underutilized (no AF touchpad function)
Rear display does not offer swivel functionality
Below average CIPA-rated battery life (though real-world battery endurance is much better)
It can be tricky to get good white balance in incandescent lighting
Colors can be a bit warm or reddish
Default high ISO NR is a bit strong
Limited native lens selection (as expected for a new lens mount)
Top burst speed slows down to 9fps when shooting 14-bit NEF files
Banding may occur in deep shadows related to PDAF pixels
1/200s x-sync speed (most competing models are 1/250s)
Optional MB-N10 battery grip has no controls
Video mode seems like a work in progress and could use firmware improvements.
Conclusion
Overall, the Nikon Z6 is an excellent camera that offers a great blend of features, performance and value. If you're in the market for a high-end mirrorless camera, the Z6 should definitely be on your shortlist. but if you are increase your budget. then you find some better camera in Nikon – Nikon z6ii, Nikon z7, Nikon z9.
Nikon official side  us – click here 
FAQ
Q1- Is the Nikon Z6 good for photography?                                                                                        Ans-yes, why not Nikon z6 is best a budget photography camera .i used this camera as a wedding photographer till last 1.5 years then i will find some issue in this camera but according to his price that's batter for other brand .
Q2- Why is Nikon Z6 best?                                                                                                                  Ans- Nikon z6 is better Because we will make video in 4k 30f/s and we click photos' in good ISO, with a full frame camera .